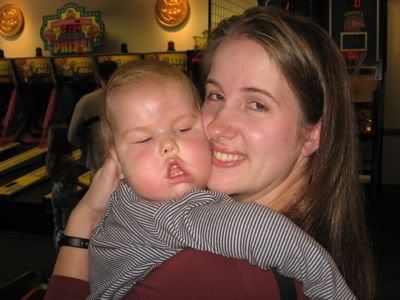 I'm sorry it has been so long! We have been really busy and there has not been any big news to report.
Ellie is doing great. The first picture above is of her in a "Little Room." It is a concept from Active Learning that we have been doing with Ellie. All of the stimulation encourages her to move for herself. There is lots of cause and effect because every time she moves she hits something. Unfortunately, she doesn't move, so she doesn't experience the cause and effect. We are still trying though!
Ellie is growing--almost too well! At her last appointment with the dietician, we decided to cut back her calories to try to slow her weight gain. She is doing so well with her blenderized diet. She is eating sweet potatoes, avocado, oats, wheat germ, flax meal, pears, prunes, yogurt, and chicken. We blend her food every evening and split it into 5 meals for the day. We are still trying to figure out the amount of calories she will need, clearly much less than the average one year old.
We heard back from the neurosurgeon that there was a sample sent to Mayo for testing. It was not the sural nerve that they wanted, but there must have been something there that they think could potentially tell them something about Ellie. We still don't know what the next step will be in testing [or not testing].
The boys had an exciting adventure last Saturday. They were given a special party at Chuck E Cheese from a church that wanted to bless our family. They had the full experience: pizza, cake, lots of games, and even some star wars toys to play with. The boys are so thankful for their special day.